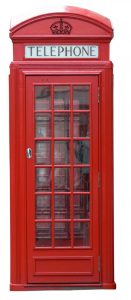 The old
The UK telecoms regulator Ofcom has proposed stronger rules to protect the remaining, iconic, red phone boxes that are often used to symbolise life in the UK in supposedly more tranquil times.
These public payphone boxes may look like obsolete relics in an age of ubiquitous smartphones, but regulator Ofcom said they can still be a "lifeline" for people in need.
The regulator is proposing rules to prevent 5,000 call boxes in areas with poor mobile coverage from being removed from service. Phone boxes in areas with high incidents of accidents or suicide attempts will also be protected.
And the new
Telephony has in the last few years undergone perhaps the most significant changes since the first telephone call was made almost 150 years ago.
The adoption of voice over IP technology by public telephony providers and businesses has changed the telephony landscape, and the use of Internet telephony and video conferencing has become ubiquitous.
PTT's new online course "Introduction to telephony" covers the principles of operation, structure, and management of both legacy circuit-switched systems and those employing voice over IP techniques.
Both private and public telephone networks are discussed providing a valuable introduction for technicians joining the telecoms and ICT sectors.